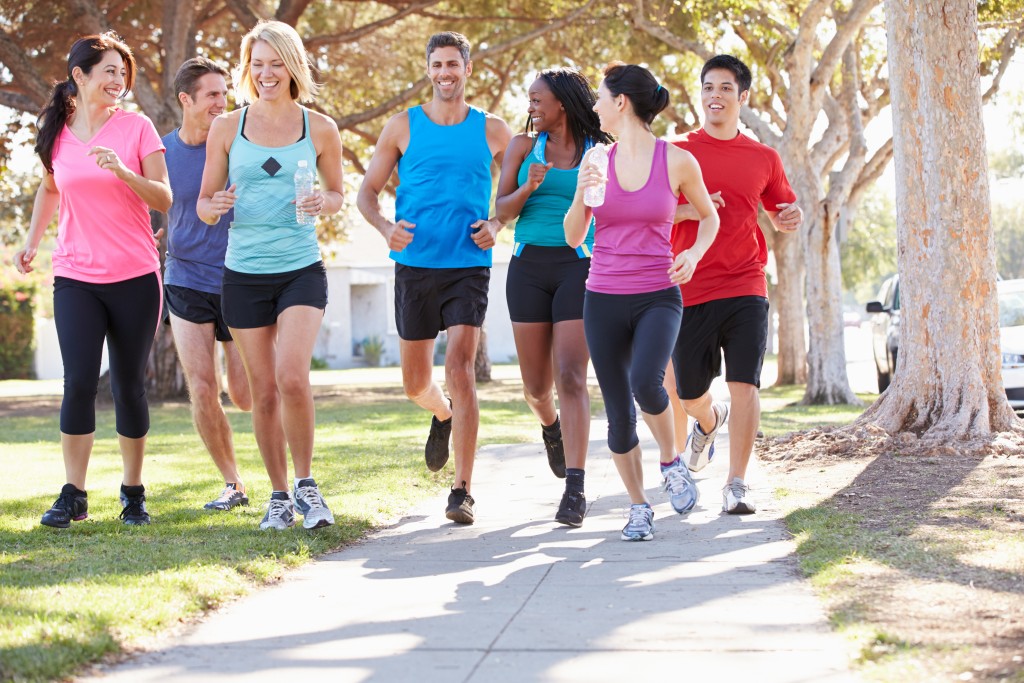 By Su-Nui Escobar, MS, RDN
As a dietitian, I strongly believe that you must exercise for optimal health, but in my experience it must be fun and challenging to stick to it in the long run. For me, I found fun and passion in running. Throughout the years, running has not only kept my body healthy and my heart pumping but also my mind sharp and my emotions in place. Running has also helped me to create strong bonds with friends and family.
Getting Started
I started running while looking for a new physical activity in graduate school. I could not afford an expensive gym membership, but was able to afford a pair of running shoes, shorts and a tee. My roommate at the time and I decided on joining a local running club. It worked well because it forced us to set aside time to exercise at least once per week and got us excited enough to run an additional couple of times per week to improve our distance and time.  For us it also became a great social activity, as the club provided fruit and water after the run and we found like-minded people. My roommate even found a boyfriend in the club! Here are some of the advice I give to new runners.
Tips to get started
Find a partner. This is a great activity to do with friends, family or partner. The bonding over achieving physical activity goals is amazing.
Find a running club. Most cities have at least one, many of them sponsored by local hospitals or running clubs.
Simply decide a date and time to run. Running is one of those activities that can be done almost anywhere with a pair of good running shoes and little time. Running is great for those who travel for work. Running requires little equipment and is a great way to explore your surroundings.
Running Clubs in Miami
Brickell Running Club: Meets every Tuesday at 7:00pm at 1300 Brickell Ave. Miami, Fl, 33131
Weston Running Club: Meets every Wednesday at 7:00pm at 1792 Bell Tower Ln, Weston, FL
Kendall Running Club: Meets every Thursday at 7:00pm
Fit2Run: Meets every Thursday at 7:00 pm at 401 Biscayne Blvd. #1180 Miami, Fl. 33132
Completing a Race
Soon, we were so involved in the running club that we decided to do our first 5-k. We figured out which one to do and signed up with enough time to train. Having a goal in mind kept us excited and motivated. We stopped running for health or weight loss and did it to complete the race within decent time. Our training was simple. We ran as far as possible for 30 minutes, 2-3 times a week. Completing the race was a great achievement and a lot of fun. I was hooked! Racing became part of my life. We found out that using a running app while training was a great idea to measure time and distance of each run. These free apps can help track running pace, calories burned, and keeps a log of all your workouts.
Best Running Apps
Log in over 600 different types of workouts and record GPS-based activities to view detailed status. This app is a great way to measure the distance of favorite routs or to explore new routes while keeping track of time, pace and mileage. I personally love signing up for the challenges available in this app.
Similar to MapMyRun, this app allows the user to track different workouts and record GPS based activities. It will also allow for goal setting and time, pace and mileage track.  
The Great Achievement
To keep me going and to reduce the stress in my life while studying for my professional exam and working full time, I decided to complete a full marathon. Training to run 26 miles seemed an impossible task at that time, but it was a great way to commit to exercise 4 days a week. Running was a powerful tool to keep my anxiety levels under control. During the week, I would sneak a 30-40 minute run by my house. The challenge to this was to incorporate a long run during the weekends. For that I joined Team in Training, a team that would meet up every Saturday morning to train. I did not have a running partner at that time but ended up meeting one of my dearest friends to this day. At this time, I have completed more than a dozen half marathons, one full marathon and several 5 and 10k races. I have had the pleasure of running with many friends to where it is now an official family activity. Lastly, completing the races taught me that all I want to do in life is possible if I just keep working on it. After all, running 26 miles was just a matter of continuing to put one foot in front of the other.