24- Hour Emergency Room
Experienced. Prepared. Responsive.
Emergency & Urgent Care Services
The highly skilled professionals and caring staff at Larkin are dedicated to providing quality patient care. Little to no wait time.
Emergency Services
Larkin provides emergency care 24 hours a day, seven days a week. Day or night, you can count on us.
Oral & Maxillofacial Surgical Services
Emergency Oral & Maxillofacial Surgical Services are available 24/7.
While the Emergency Department is dedicated to ensuring that life-threatening situations are taken on a priority basis; all patients are important to us including those experiencing minor problems.
Upon admission to the Emergency Room, patients are evaluated by a triage nurse who assesses the patient condition and determines who must be treated immediately.
For additional information, please call us at:
Larkin South Miami: 305-284-7500
Larkin Palm Springs (Hialeah): 305-558-2500
Facilities
Emergency Services | Larkin Health Please Visit or Call The Following Facilities.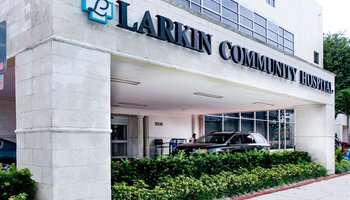 South Miami Campus
Larkin Hospital South Miami
7031 SW 62nd Ave. South Miami, 33143.
Tel: (305) 284-7500 | View
Hialeah Campus
Larkin Hospital Palm Springs
1475 W 49th Pl.. Hialeah, 33012.
Tel: 305-558-2500 | View
Physicians
Physicians Treating Emergency Services | Larkin Health.