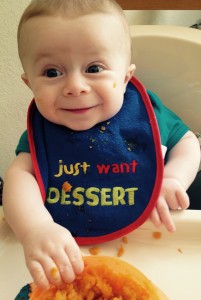 By Heather Levine, RDN/LDN
Starting solid foods can be a fun, messy time for your baby as he or she explores new tastes, smells and textures.  While this can be a very exciting time, it can be quite confusing and expensive for you!  There are many options of how you can feed your child in this stage of his/her life and the market is saturated with baby food products and expensive appliances. Jars or pouches of baby food can run from $0.30 to $2.00 or more per serving, which can add up quickly. However, my experience as a mom and as a Registered Dietitian showed me that all you need is simple equipment and a little bit of time to make your own baby's meals.  Like the convenience of pouches? You can buy them in some baby stores or online and fill them yourself with homemade food. 
Setting aside some time to make your own baby food can set you up for success. This way you can control the ingredients and quality. In addition the cost will be much lower and you will have a large amount of food.
As always, when introducing foods to your child speak with your Pediatrician on when the time is right, usually around 6 months of age. Your baby should be able to sit up on her own as well as show interest in meals at the table. In addition new foods must be introduced one at a time over the course of 2-3 days to monitor for any reaction. Once your child is able to tolerate foods separately, you should be able to introduce combination foods. The top food allergens are: wheat, cow's milk, soy, egg, fish/shellfish, and nuts. It is best to wait introduce these foods when the Pediatrician approves.
Suggested ingredients:
Apples, beets, carrots, pears, green beans, bananas, peas, garbanzo beans, parsnips, sweet potatoes, blueberries, strawberries, pumpkin, butternut squash, spinach, quinoa, brown rice, and oats.
Food pairing ideas:
Try something sweet like a fruit with a vegetable and/or whole grain. Look for inspiration at items in grocery store, or ideas from friends and family.
Examples:
Quinoa, blueberries and pears 
Sweet potato, corn, apples
Blueberries, spinach, applesauce
Banana, quinoa, pumpkin
Equipment:
Food processor or blender, ice cube trays, and freezer bags.
Preparation method:
Start with a clean, sanitized work area. The same care taken with breast milk/formula preparation should apply when preparing food for your baby.
Roast hearty vegetables like parsnips, beets and sweet potatoes, steam or microwave: spinach, carrots and other similar vegetables. Cook grains like quinoa or brown rice according to package directions.
Mix in the food processor, combine as desired and pour into ice cube trays.
Place in freezer until frozen, then pop out the individual portions into a freezer safe bag. Label and date the bag. Alternatively, store mixture in a container in the refrigerator for up to 5 days.
To serve:
Take out as many portions as you need the night before and place in a bowl in the refrigerator to defrost overnight.  You will notice that some combinations will be a little watery when defrosted, add some applesauce and re-mix to preferred texture.  Instant mashed potatoes can also be used to thicken. If the puree is too thick, try adding formula, breast milk or water to thin it out.
Enjoy!