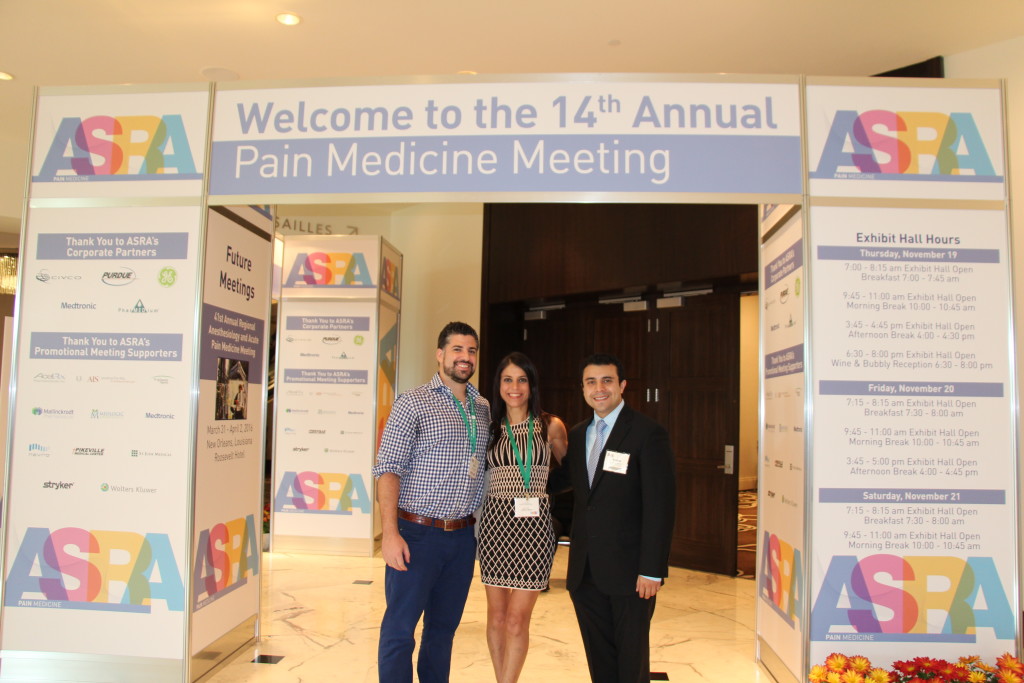 Congratulations to our team at the Miami Neuroscience Center and the Larkin Community Hospital Anesthesiology Department on participating in the 14th Annual Pain Medicine Meeting. The conference was held by the American Society of Regional Anesthesia and Pain Medicine in Miami Beach on November 19th to 21st.
Our team was represented by Drs. Luciana Curia, Andres M. Alvarez-Pinzon, Jose Valerio, Juan Cucalon, Norvan Vartevan and  Aizik Wolf. Over 1,000 physicians from around the world participated in the meeting to learn about new skills and research in Pain Medicine. Our team's presentations were:
Efficacy of Gamma Knife Radiosurgery and Retrogasserian balloon compression in Trigeminal Neuralgia refractory for prior Gamma Knife Radiosurgery.
Outcomes after Minimally Invasive Surgical Treatment of Intractable Facial Pain from Trigeminal Neuralgia in patients with Multiple Sclerosis.
Prospective, observational, clinical study evaluating the efficacy of percutaneous Retrogasserian balloon compression for the treatment of primary Trigeminal Neuralgia.
The American Society of Regional Anesthesia and Pain Medicine (ASRA) was founded in 1923 and reborn in 1975. It is the largest subspecialty medical society in anesthesiology with approximately 4,000 members including physicians and scientists from around the world. To learn more, please visit www.asra.com.