Dr. Bertram Moldauer To Serve As Program Director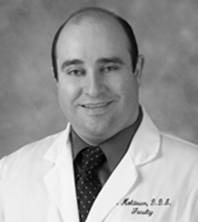 South Miami, Florida, March 5, 2014 - - Larkin Community Hospital (LCH), one of Florida's twelve statutory teaching hospitals and the largest osteopathic teaching hospital in the nation, has received accreditation from the American Dental Association's Commission on Dental Accreditation. The Advanced Education in General Dentistry (AEGD) Residency Program at Larkin Community Hospital is the latest in a long list of specialties offered. Larkin Community Hospital trains physicians in 30 different osteopathic and allopathic residency programs.
The AEGD Residency Program has a comprehensive multidisciplinary core curriculum with an emphasis on public health dentistry through affiliated community health centers. Residents in Larkin's AEGD program will have the opportunity to perform a wide variety of procedures ranging from comprehensive restorative dentistry to more complex procedures in medically-compromised patients needing implant supported restorations, endodontic therapy, or endodontic surgeries.
A third generation dentist and passionate academician, Dr. Bertram Ivan Moldauer served as Associate Director of both Predoctoral and Postgraduate Endodontics at Nova Southeastern University and is a Visiting Professor at Universidad Garcilazo de la Vega Peru and Universidad de Ciencias Aplicadas in Lima, Peru. Dr. Moldauer has a master's degree in education with a specialization in teaching and learning. During a recent interview Dr. Moldauer commented that "the prospect of leading this new program is humbling and a great opportunity to train residents in a real practice environment with the ultimate goal of serving the most needy in our community."
Media Contact Kristina Gaddy Mulpura 305-284-7770 Email: kgaddy@larkinhospital.com Program Contact Angela Mazon, Dentistry Coordinator 305-284-7761 Email: amazon@larkinhospital.com