Help is One Click Away
Alcohol Detox Services
Larkin Health Systems offers a comprehensive Inpatient Detoxification based on your individual needs and medical recommendations.
Alcohol Detox Hospitals South Florida
Alcohol addiction is a serious issue in the United States, as alcohol can be a very addictive substance becauseas it produces a rush of euphoric feelings and is said to "numb" negative or stressful thoughts and feelings.  People start out by drinking to get by with their daily lives and stressors, but somewhere along the way they begin drinking too much and  too often – until it interferes with their work, relationships, and health.  At that point, alcohol abuse becomes alcohol dependency.  Alcohol addiction is a serious issue in the United States. 
"Excessive alcohol use is responsible for more than 95,000 deaths in the United States each year, or 261 deaths per day. "
If you, or someone you know, are addicted to alcohol, Larkin Health Systems' Detoxification Programs in South Florida are here to help you and your loved ones throughout the detox process. To commit to a life of sobriety, medical alcohol detoxification is the first step to clean living. Coming to grips with the physical and psychological reality of alcohol addiction and sobriety can be difficult. You may feel desperation, fear, or confusion. Those feelings are all completely normal. However, you must stay focused and commit to an addiction-free lifestyle. Read on for more information regarding inpatient alcohol detoxification and withdrawal.
What is Alcohol Detox?
Inpatient alcohol detoxification is the medical process of tapering a person with alcohol addiction off of the substance under medical and psychiatric supervision.  Doctors gradually replace alcohol with prescription medications and other coping mechanisms that assist you so that you can better manage withdrawal symptoms during medical alcohol detox.
Alcohol detox is almost impossible for patients to do on their own, due to the intensity of alcohol withdrawal symptoms.  That is why we felt that it was important to create our inpatient alcohol detoxification program to help you safely and successfully put an end to alcohol consumption and minimize the effects of alcohol withdrawal.
Medical detox from alcohol allows patients to mentally and physically prepare to proceed to the next step in the treatment process.  It also lowers the chances of relapsing into alcohol consumption and increases patients' chances of sobriety in the long run.
Appointments & Inquires
Call or click for an in-person or virtual visit.
How Does Alcohol Abuse Affect the Brain?
Alcohol is a depressant that slows down brain activity.  It does this by impacting chemical processes that make neurons in the brain more negative (inhibitory).  When neurons are more negative this decreases the firing between them, which results in slurred speech and decreased coordination.  Alcohol also releases dopamine, associated with the feeling of pleasure, and serotonin, which helps in emotional regulation.
When alcohol is consumed the two main chemical processes it impacts in neurons are GABA and Glutamate receptors:
GABA receptors
Alcohol stimulates the GABA receptor's activity which lets negative ions into the neuron and decreases neural firing.
Glutamate receptors
Alcohol inhibits the glutamate receptor's ability to let positive ions into the neuron which makes the neurons more negative and decreases neural firing.
Over time, the consistent use of alcohol activates an adaptive response in the brain that decreases GABA activity and increases Glutamate activity. This results in a perpetuating cycle that requires increasing quantities of alcohol to reach the chemical equilibrium.
If alcohol is abruptly discontinued and not tapered off this will result in an influx of positive ions into the neurons making them positive (excitatory). This is known as a hyper-excitable state which results in an array of symptoms broadly categorized as withdrawal syndrome. Symptoms of withdrawal syndrome include seizures, tremors, cardiovascular complications, and hallucinations.
Alcohol Detox Treatment Plan Example
1. Alcohol Detox Treatment Plan
Librium taper (3 days)

50 mg every 8 hours (day 1)
25 mg every 8 hours (day 2)
25 mg every 12 hours (day 3)
2. Expected length of stay
Generally 3 to 5 days
To learn more about the admission process please click here.
The Science Behind Alcohol Detox
Alcohol withdrawal symptoms can range from mild to severe depending on the level of alcohol addiction.  However, knowing what alcohol withdrawal symptoms are, in advance, helps patients to cope with them when they do arise.  According to WebMD, Alcohol withdrawal symptoms typically begin within 6 to 72 hours after the last time alcohol was consumed.  
The severity of alcohol withdrawal symptoms depends on a person's alcohol dependency levels.  Serious symptoms such as seizures and hallucinations typically occur within the first two days of abstaining from alcohol. Patients have been reported to hear, see, and feel things that are not real.  Another serious side effect of alcohol withdrawal is called Delirium Tremens or DT, which typically occurs 48 to 72 hours after alcohol withdrawal symptoms begin. Patients experiencing DTs are at great risk as they suffer from realistic hallucinations and delusions.
Alcohol Withdrawal Symptoms: sweating, fever, nausea, tremors / shaking, muscle tension, seizures, cardiovascular complications, tachycardia (increased heart rate), arrhythmias palpitations, myocardial infarction (heart attack), hypertension (high blood pressure), shortness of breath, hallucinations / confusion / psychosis, insomnia, anxiety, depression and diarrhea.
Alcohol Withdrawal Treatment Plan
During the alcohol withdrawal stage, it is important for our highly qualified physicians to monitor patients' vital signs and appropriately administer replacement medications. The first stage of alcohol withdrawal treatment includes providing medications such as Benzodiazepines (Benzos), and Disulfiram, because they help mitigate alcohol withdrawal symptoms. The medications prescribed by our physicians help normalize the chemistry of the brain while blocking the negative effects of alcohol. Controlled medications also help to reduce physiological cravings and normalize bodily functions.  
Patients also work with our psychiatrists, which provide psychological services to help patients overcome the psychological issues associated with alcohol addiction. Patients can expect to be at our facility for around three days, or until severe withdrawal symptoms have subsided.
Studies show that comprehensive alcohol detox programs, which combine medication and psychological services tend to result in increased treatment retention, decreased criminal behavior, greater opportunity for employment, and better outcomes overall.
The Difference Between Benzos & Disulfiram
Disulfiram is unlike Benzos in that it does not interact with neurotransmitters in the brain. Rather, it alters the way the body breaks down and eliminates alcohol from a patient's system.  As the body begins to metabolize alcohol, it converts alcohol into acetaldehyde, which is associated with the negative sensations known as hangovers. Typically, the body breaks down acetaldehyde and reduces the uncomfortable sensations of a hangover. However, Disulfiram blocks the process of oxidation, thus allowing increased levels of acetaldehyde in the bloodstream.
Ultimately, Disulfiram is not a cure for alcoholism or alcohol addiction. However, it does discourage patients from consuming alcohol. Side Effects of Disulfiram include: mild headache, drowsiness, impotence, acne, skin rash, tiredness, metallic taste in the mouth, garlic-like taste in the mouth, weakness, vomiting, lack of energy and loss of appetite.
Together we can begin your journey to sobriety, call us today at 305 491-7553.
What Happens After Alcohol Inpatient Detoxification?
After alcohol inpatient detoxification, patients receive psychological services to help patients overcome the psychological, emotional, and behavioral effects of alcohol addiction.  Psychological and therapeutic services offered after alcohol detoxification include: Psychosocial Therapy, Referrals to 28-Day In-Patient Programs, Brief Interventions, and Medication-Assisted Treatment (MAT).  Peer support is another form of psychological therapy for patients after alcohol inpatient detoxification.  Alcohol Anonymous (AA) falls under peer support therapy.  This type of therapy is especially useful because people hear the stories of people who have suffered through addiction and are striving to remain sober.
Live Free From Alcohol Addiction
Medical detoxification from alcohol is the first step towards long-term sobriety.  Once patients have gone through medical alcohol detox they can transition into additional, long-term forms of treatment including Psychosocial Therapy and Peer Support Therapy. Patients that once had an alcohol addiction have an increased sense of physical and mental well-being after detox.  Patients have also stated to experiencing a renewed sense of purpose in life and a zest for living.
If you're ready to experience a more healthy and positive lifestyle, call our medical detox program team to discuss your options for alcohol addiction treatment.
Frequently Asked Questions
Facilities
Alcohol Detox Treatment Program Please Visit or Call The Following Facilities.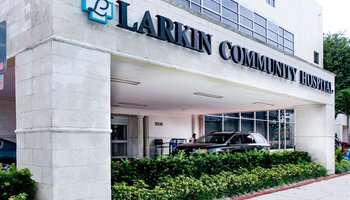 South Miami Campus
Larkin Hospital South Miami
7031 SW 62nd Ave. South Miami, 33143.
Tel: (305) 284-7500 | View
Hialeah Campus
Larkin Hospital Palm Springs
1475 W 49th Pl.. Hialeah, 33012.
Tel: 305-558-2500 | View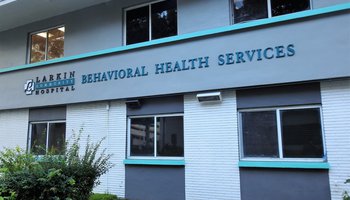 Hollywood Campus
Larkin Hospital Behavioral Health Services
1201 N 37th Ave. Hollywood, 33021.
Tel: 754-777-5600 | View
Physicians
Physicians Treating Alcohol Detox Treatment Program.