LET US HELP YOU BREAK THE CYCLE
Larkin Hospital offers a comprehensive Inpatient Detoxification
Inpatient Detox Center & Treatment Program
Choosing to quit an addiction to alcohol, prescription painkillers, or drugs without medical assessment and treatment can cause significant and potentially life-threatening complications. Larkin Health System offers a comprehensive Inpatient Detoxification Program at three of its Hospitals located across Miami-Dade and Broward County, which are based on your individual needs and medical recommendations.
Each person that enters Larkin Hospital for inpatient detoxification is assured individualized treatment and high-quality medical care. Our medical staff understands the importance of working with you, monitoring you, and assisting with your personalized needs because your detoxification is unique and you may respond differently than someone else.
The length of your stay will depend on the substance you have been using, as well as the dosage and how long you have been addicted. Your treatment team will recommend the next level of care; and assist you with accommodations to suit you on your road to recovery.
Appointments & Inquires
Call or click for an in-person or virtual visit.
Detox & Admission Process
Start Your Journey Toward A Detox Life
Just give us a call at 305-491-7553 or just click the button below.
What is Medical Detox?
Medical Detox is the treatment of alcohol, opioid, and other drug withdrawal symptoms in a acute care (hospital) setting using pharmacological and therapeutic methods. Consistently using an addictive substance leads to a chemical imbalance in the body and an increasing reliance on the drug.
This is why abruptly stopping a substance after the body has developed a reliance is unsuccessful and dangerous. Withdrawal symptoms can range from minor discomfort including nausea, fever, and sweating to life-threatening conditions such as seizures, delirium tremens, and cardiovascular complications.
Rather than abruptly discontinuing an addictive drug, the body needs to be gradually tapered off which either gives it a chance to reestablish the proper chemical processes or to replace the drug with another controlled substance.
Therefore, medical detox requires the resources of a hospital, comprising of board-certified psychiatrists and internists, pharmacists, nurses, therapists, and professional addiction counselors that are constantly monitoring your vital signs, incrementally replacing and tapering you off of the drug, and providing therapeutic services that serve to replace the addiction.
 
Don't Wait, Help is One Click Away
It's never too late to get better
Facilities
Inpatient Detox | Larkin Health Please Visit or Call The Following Facilities.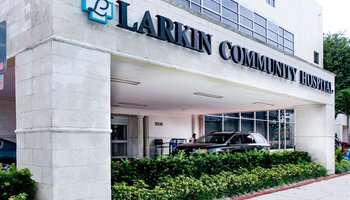 South Miami Campus
Larkin Hospital South Miami
7031 SW 62nd Ave. South Miami, 33143.
Tel: (305) 284-7500 | View
Hialeah Campus
Larkin Hospital Palm Springs
1475 W 49th Pl.. Hialeah, 33012.
Tel: 305-558-2500 | View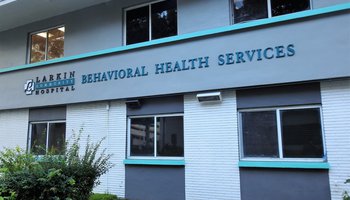 Hollywood Campus
Larkin Hospital Behavioral Health Services
1201 N 37th Ave. Hollywood, 33021.
Tel: 754-777-5600 | View
Physicians
Physicians Treating Inpatient Detox | Larkin Health.