Larkin Community Hospital has been awarded the Press Ganey Commitment to Excellence Award for the second year in a row! For nearly 30 years, Press Ganey has worked to support health care providers in improving the entire patient experience.
Press Ganey highlights the outstanding work of those health care providers who strive to improve the patient experience and raise the bar on performance each year. Each year, Press Ganey recognizes a select group of health care providers with awards that distinguish their efforts to improve the quality and safety of patient care, to provide a positive and collaborative environment for employees and physicians, and ultimately to deliver exceptional patient experiences.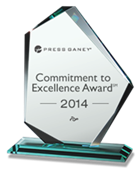 The Commitment to Excellence Award℠honors health care providers who have shown continuous improvement, comparing quarterly scores during a two-year period.
You can see the full list of the 2014 Recipients of the Commitment to Excellence Award at: http://pressganey.com/PressGaneyAwards/Commitment-to-Excellence-Award.aspx