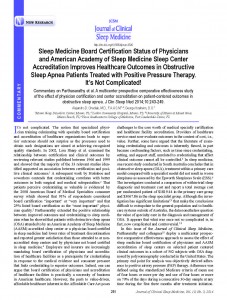 Dr. Alejandro Chediak and Dr. George Ibraheim were recently published in the Journal of Clinical Sleep Medicine.  Their article was entitled "Sleep Medicine Board Certification Status of Physicians and American Academy of Sleep Medicine Sleep Center Accreditation Improves Healthcare outcomes in Obstructive Sleep Apnea Patients Treated with Positive Pressure Therapy.  
It's Not Complicated!" Dr. Chediak is the Program Director for the Sleep Medicine Fellowship at Larkin Community Hospital and Dr. Ibraheim is a Fellow in the program.
To read their article, you can visit the Journal of Clinical Sleep Medicine by clicking here.