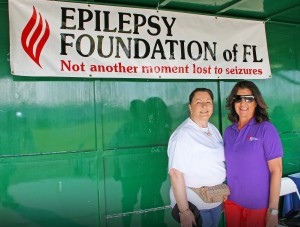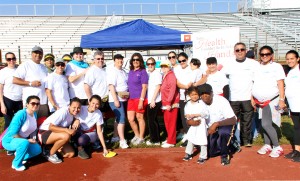 On Saturday, March 9, 2013 the joining of two major forces occurred. The Epilepsy Foundation of Florida and Miami Neuroscience Center at Larkin have joined to support "Walk the Talk", one of many events held by the Epilepsy Foundation and its partners. According to the Epilepsy Foundation of Florida (EFOF) more than 375,000 Floridians suffer from epilepsy and seizure disorders and about 42,000 people die every year nationally due to seizures and other related causes. Sandy Sosa-Guerrero, Chief Executive Officer of Larkin Community Hospital felt strongly about supporting this cause. When asked to serve as a part of the board she did not hesitate and gave a resounding "Yes" She is truly one of our unsung community heroes.
"Those who suffer with this disease - and their families could live a productive life. But they need help. That is what The Miami Neuroscience Center at Larkin and Larkin Community Hospital is all about. Larkin Community Hospital is the community's resource for healthcare need and awareness," states Sosa-Guerrero. This CEO does not only speak from the seat of an administrator but also speaks from the experience of a nurse who had the privilege to serve many patients in the community. Not only did she foster a relationship with them but also was a critical team member in their road to recovery. Karen Egozi, CEO of the Epilepsy Foundation of Florida recognizes strength, compassion and leadership in Ms. Sosa-Guerrero and recognizes the force of Larkin Community Hospital in the community. "The Epilepsy Foundation is grateful to team up in this cause with Miami Neuroscience Center and Larkin Community Hospital. The Epilepsy Foundation of Florida is grateful to team up with Larkin Community Hospital and their many stellar neurology programs. We have seen amazing things come out of there under the leadership of my friend and now board member Sandy," states Egozi who has been working in the trenches in this fight for close to ten years.
Larkin's employees demonstrated their commitment by being the largest corporation in attendance with 93 employees, and garnering the award of the largest corporate team. Close to 1500 participants walked at Tropical Park this last Saturday to support this worthy cause. The success of the funds raised will aid patients and their families with treatment, research, as well as education on the challenges of living with epilepsy. The Epilepsy Foundation of Florida and the Miami Neuroscience Center and Larkin Community Hospital are looking to make a significant dent with the proceeds that would in turn impact a large portion of the South Florida community that is affected by this disease.
The Epilepsy Foundation of Florida (EFOF) was established in 1971 as a not-for-profit 501 (c)(3) and serves as the lead advocate for rights and needs of people with epilepsy and other seizure disorders. The family of epilepsy disorders is the third-most prevalent neurological condition in the United States, striking approximately 3 million people nationally and 375,000 people in Florida. About 42,000 people die each year in the U.S. due to seizures from epilepsy and related causes. The EFOF -- with offices in Miami, Fort Lauderdale, Daytona, Stuart, West Palm Beach, Jacksonville, Gainesville and Pensacola -- provides numerous services to individuals and families, such as advocacy and counseling, education and prevention, direct medical and neuropsychological services, as well as research and other programs regardless of financial situation or socioeconomic status. For more information, visit http://www.EpilepsyFLA.org.
About the Miami Neuroscience Center: Dr. Wolf founded the Miami Neuroscience Center in 1993. Over the past two decades, he and his team have performed nearly 7,500 Gamma Knife surgeries, acquiring a level of expertise unmatched in the field. The team's long-time collaboration also led to a number of medical breakthroughs. The team was the first to make extensive use of radiosurgery to manage multiple metastases. It was also one of the first to apply radiosurgery to treat large-sized benign tumors, and the first nationally to provide Gamma Knife treatments on an outpatient basis. For more information, visit http://www.miamineurosciencecenter.com or call (305) 284-7554.
About Larkin Community Hospital: Larkin Community Hospital (LCH) is a 146-bed Acute Care Medical, Surgical and Psychiatric Teaching Hospital fully accredited by the Joint Commission on Accreditation of Healthcare Organizations. Its mission is to provide the highest quality of compassionate care in an educational environment. The hospital is located in South Miami. For more information about Larkin, visit http://www.larkinhospital.com. For additional information about its Graduate Medical Education programs, visit larkinhospital.com.