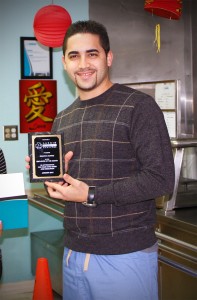 On behalf of our leadership team, Larkin Community Hospital would like to congratulate Eduardo Alvarez as our employee of the month for January 2013.
Eduardo Alvarez became part of the Larkin family as a Radiology transporter in 2009. He has worked and studied throughout the years to become a Radiology technician. He is currently studying and will take his CAT SCAN examination shortly. He is a very determined and responsible young individual and constantly challenges himself to excel.
Approximately 3 weeks ago, Dr. Klayman needed to perform a procedure and the technicians that normally assist were not scheduled to work. Mr. Alvarez immediately volunteered and said "Don't worry, I can assist with the procedure".
Because of his determination and willingness to go the extra mile, Eduardo Alvarez is truly a role model. His desire to go above and beyond the call of duty have qualified him as Employee of the Month.
It is because of employees like him, that Larkin is moving forward in achieving its goal of becoming a Top 100 Hospital by providing the highest in patient satisfaction and quality care.
Once again, thank you for your continuous support and being an integral part of our Larkin Family.