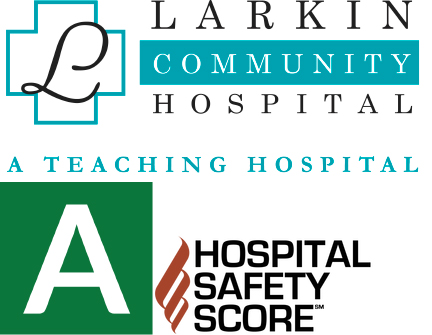 ¿Sabía que el Larkin Community Hospital mantiene la condición de ser uno de los hospitales más seguros del país? El Hospital Safety Score nos ha calificado nuevamente como "A" en seguridad hospitalaria por nuestra dedicación a la excelencia en la atención al paciente.
El Hospital Safety Scores califica los hospitales según el nivel de seguridad que le ofrecen a los pacientes. La puntuación de A, B, C, D, F expresa la capacidad de cada hospital para proteger a sus pacientes de errores, lesiones e infecciones. La seguridad debe ser lo primero, ya que estos errores matan o dañan a millones de americanos cada año. El sistema de puntuación fue desarrollado por los expertos más importantes en el país en seguridad del paciente.
Se puede verificar nuestra puntuación aqui.
El Hospital Safety Scores califica más de 2.500 hospitales en todo el país dos veces al año. Hospital Safety Scores se ha venido convirtiendo en la regla de oro en seguridad del paciente, según recientes comentarios aparecidos en MSNBC, The New York Times y la revista de la AARP.
El Hospital Safety Scores utiliza mediciones nacionales de desempeño de la Leapfrog Hospital Survey, la Agency for Healthcare Research and Quality (AHRQ), los Centers for Disease Control and Prevention (CDC), los Centers for Medicare and Medicaid Services (CMS), el American Hospital Association's Annual Survey y el Health Information Technology Supplement.
En conjunto, esas mediciones de desempeño producen una sola puntuación que representa la capacidad general de un hospital en mantener a los pacientes a salvo de daños evitables y errores médicos. El Hospital Safety Scores incluye 28 mediciones, todas actualmente en uso por los programas nacionales de medición e información. La metodología del Hospital Safety Scores ha sido revisada y publicada en el Journal of Patient Safety. Además, la puntuación es 100 por ciento transparente y gratuita para el público.
Más información aquí.