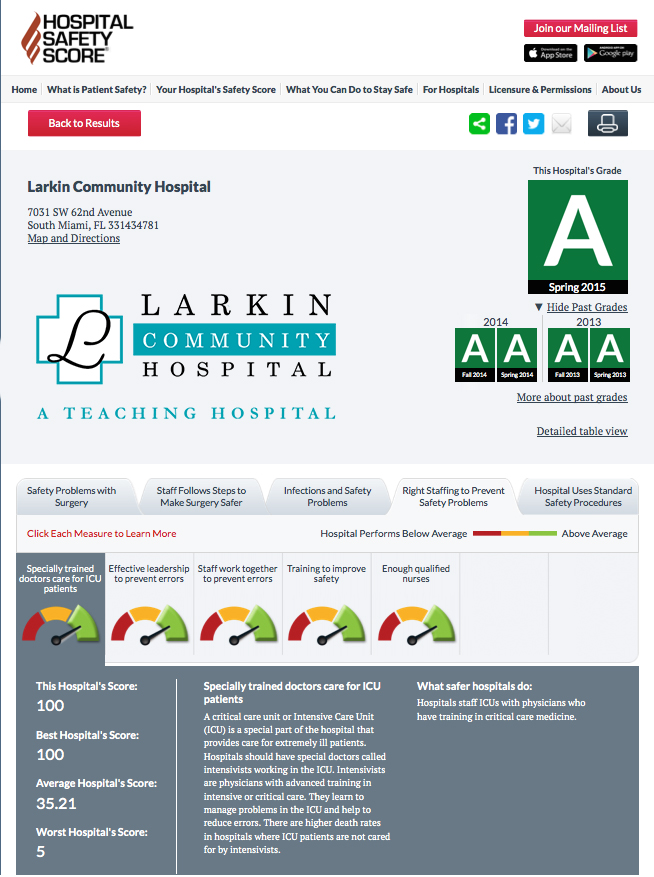 Do you know that Larkin Community Hospital is one of the safest hospitals in the country? We continue earning an 'A' in Hospital Safety Score for five quarters in a row for our dedication to excellence in patient care. The Hospital Safety Score grades hospitals on how safe they are for patients. Each A, B, C, D, or F score rates how well the hospital protects patients from errors, injuries and infections. Safety should come first, as these mistakes kill or harm millions of Americans every year.
The scoring system was developed by the foremost patient safety experts in the country. You can verify OUR score here and you can read a Miami Herald article on the issue here Hospital Safety Scores are assigned to more than 2,500 hospitals across the nation twice annually. The Hospital Safety Score is becoming the gold standard measure of patient safety, cited recently in MSNBC, The New York Times, and AARP The Magazine.
The Hospital Safety Score uses national performance measures from the Leapfrog Hospital Survey, the Agency for Healthcare Research and Quality (AHRQ), the Centers for Disease Control and Prevention (CDC), the Centers for Medicare and Medicaid Services (CMS), and the American Hospital Association's Annual Survey and Health Information Technology Supplement. Taken together, those performance measures produce a single score representing a hospital's overall performance in keeping patients safe from preventable harm and medical errors. The Hospital Safety Score includes 28 measures, all currently in use by national measurement and reporting programs. The Hospital Safety Score methodology has been peer reviewed and published in the Journal of Patient Safety. Additionally, the score is 100-percent transparent and free to the public. More info here.