FOR IMMEDIATE RELEASE                                               
LARKIN COMMUNITY HOSPITAL NAMED THE ONLY HOSPITAL IN SOUTH FLORIDA TO WIN THE TOP URBAN HOSPITAL AWARD
Miami-Dade County Hospital Among Select Group Recognized For
Highest Quality In Nationwide Hospital Review
  South Miami, Florida, December 6, 2013 - - Larkin Community Hospital (LCH), one of Florida's twelve statutory teaching hospitals and the largest osteopathic teaching hospital in the nation, has been named Top Urban Hospital by The Leapfrog Group.  LCH is the only hospital in South Florida (including Palm Beach, Broward, Miami-Dade and Monroe counties) to receive this elite designation. The Top Hospitals award is widely recognized as the nation's most competitive hospital quality awards.  Award winners were announced and presented their awards at Leapfrog's Annual meeting in Washington, D.C., this week.   Hospitals from across the country were included in the group considered for the Top Hospitals designation.  The South Miami healthcare provider received the high honor after a rigorous evaluation process.  The award recognizes Larkin Community Hospital for demonstrating the highest standards in quality of care, including lower infection rates, higher survival rates for high-risk procedures, decreased length of hospital stay, and fewer readmissions.   Dr. Jack J. Michel, Chairman of Larkin Community Hospital said the Top Hospital honor is a team achievement. "This award is a testament to the dedication of our team and our shared commitment to deliver the finest quality care for every patient we see. It is particularly gratifying to accept this honor on behalf of everyone at the hospital whose hard work has been recognized with this prestigious award. This recognition sends a clear message to our patients and their employers that if they are looking for a quality and cost effective alternative for their health care needs they can find it at Larkin. It is an established fact that lower quality providers not only harm patients but also contribute to the spiraling costs of health care in our country" he said.   The Leapfrog Group is a national nonprofit organization founded more than a decade ago by employer organizations with support from the Business Roundtable, The Robert Wood Johnson Foundation, and organizations around the country focused on initiating improvements in the safety, quality, and affordability of healthcare for Americans.  According to The Leapfrog Group President and CEO Leah Binder, "The field of hospitals' considered for this year's elite Leapfrog Top Hospital distinction was more competitive than ever.  By achieving the Top Hospital accolade, Larkin Community Hospital has demonstrated exemplary performance across all areas of quality and patient safety that are analyzed on the Leapfrog Hospital Survey. If my family or friends needed care, I'd be comfortable send ing them to Larkin Community Hospital."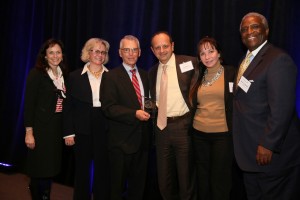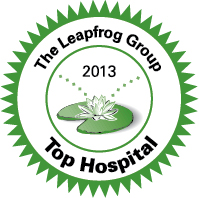 Beth Casteel, Staff Vice President of Human Resources for FedEX Leah Binder, President & CEO. The Leapgrog Group Bill Finck, Chair, Leapfrog Group Board of Directors Jack J Michel, President & Chairman of the Board, Larkin Community Hospital Alba L Michel, Administrator, Larkin Home Health Services Vernon Williams, Patient Advocate, The Leapfrog Group Photographer: James Daigle
About Larkin Community Hospital:
Larkin Community Hospital (LCH) is a 146 Bed Medical/Surgical Teaching hospital. LCH is one of 12 designated Statutory Teaching Hospitals in Florida and the largest teaching hospital for Osteopathic physicians in the United States, offering the largest number of training programs (offering training in 30 different specialties in total). LCH sponsors an allopathic residency program in Psychiatry. In addition, LCH also has a Nursing School (Registered Nurse Associate Degree program). LCH is also the home of:
The Miami Neuroscience Center at Larkin, a state of the art facility which specializes in Gamma Knife Radiosurgery. This 25 member team, led by world renowned neurosurgeon Dr. Aizik Wolf, has performed over 8000 procedures during the past 20 years. Gamma Knife is a non-invasive state of the art neurological procedure used to treat brain tumors, head and neck cancer, and neurological conditions, such as trigeminal neuralgia and Arteriovenous Malformations.
The Center for Advanced Orthopedics at Larkin, which specializes in advanced orthopedic surgery using the latest multimodal perioperative pain management modalities and state of art technology and instrumentation with advanced robotic technology. The center, led by world renowned orthopedic surgeon Dr. Carlos Lavernia, includes an outcomes-oriented robust research component with an ongoing prospective surgical registry and a comprehensive rehabilitation department.
The hospital is committed to providing the highest quality compassionate care in an educational environment.  For more information about Larkin Community Hospital, visit www.larkinhospital.com.