Wound Care
Specialized Techniques, Exceptional Experience & Comprehensive Care
Wound Care Specialists
Designed for patients suffering from acute, chronic, nonhealing, or complex skin conditions; our wound care services offer specialized techniques, exceptional experience, and comprehensive care to speed up your recovery. Our medical team is comprised of certified wound care specialists, dieticians, nurses, physical therapists, and home health professionals. As a Statutory Teaching Hospital we have Board-Certified Dermatologists, Vascular Surgeons, and Podiatrists upholding the highest level of care. Our experienced team not only treats your acute condition but also the underlying risk factors causing your condition such as diabetes, diet, circulatory problems, arthritis, smoking, drinking, or immunodeficiencies.
Treatments
Antibiotics
Compression Stockings/ Bandages
Debridement
Growth Factor Therapy
Negative Pressure Wound Therapy
Skin Grafting
Wound Assessment
Wound Cultures
Pain Management
Nutritional Services
Physical Therapy
Vascular Services
Podiatry Services
Conditions
Abdominal Wounds
Arterial Ulcers
Chronic Wounds
Dead (Necrotic) Tissue
Diabetic Foot Ulcers
Diabetic Ulcers
Deep cuts or lacerations
Edema
Extremity wounds
Gangrene
Infections
Inflammation 
Lymphedema
Nonhealing wound
Pressure Ulcers/Injury (Bed Sore)
Puncture Wounds
Pyoderma Gangrenosum Ulcer
Radiation Wounds 
Skin Tears or Abrasions
Traumatic Wounds
Venous Ulcers
Risk Factors
Arthritis
Circulatory problems
Diabetes
Diet
Immunodeficiencies
Inflammatory bowel disease
Smoking & Drinking
Facilities
Wound Care | Larkin Health Please Visit or Call The Following Facilities.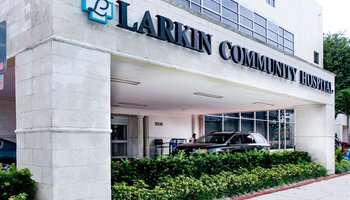 South Miami Campus
Larkin Hospital South Miami
7031 SW 62nd Ave. South Miami, 33143.
Tel: (305) 284-7500 | View
Hialeah Campus
Larkin Hospital Palm Springs
1475 W 49th Pl.. Hialeah, 33012.
Tel: 305-558-2500 | View