Home »
Laboratory Services & Pathology
Larkin Labs
Quality Laboratory Services For All Patients
Laboratory and Pathology Services
Fully accredited by the joint commission Larkin Community Hospital's laboratory helps provide expertise in all areas of laboratory and pathology services. We help by offering a wide range of routine and esoteric testing in a teaching environment; and we are fully accredited by the Joint Commission.
Our laboratory consists of Board certified Pathologists, licensed medical technologists and a highly trained phlebotomy team. Our goal is to provide quality laboratory services for all our patients.
At our South Miami campus, we are performing toxicology testing of prescribed medications as well as substance abuse drugs. The Laboratory offers a screening panel reflex to confirmatory testing by LC/MS with expedited turnaround times of 72 hours. We provide an array of customized panels to fit our customers' needs (Psychiatry, Pain Management, Rehabilitation, Detox, and Forensics).​
Appointments & Inquires
Led By Board Certified Pathologists, Wide Range Of Routine And Esoteric Testing
Clinical Chemistry, Edocrine, Patholgy, & Blood
Conservation Program
Clinical Chemistry

Pre-op panel
Lipid panel
Diabetes
Cardiac
Anemia
Rheumatology

Endocrine Test

Thyroid panel
HcG Qualitative
PSA
CEA

General Pathology

Blood Conservation Program
Coagulation, Hematology & Immunohematology
Coagulation

PT/PTT
D-Dimer
PT/PTT (Mixing Studies)

Hematology

Complete Blood Count
Sedimentation Rate
Sickle Cell
Body Fluid  Studies

Immunohematology

Blood Bank
Type & Screen
Type & Rh
Crossmatch
Microbiology, Serology & Urinalysis
Microbiology

Influenza A & B
Occult Blood
Strep A  Direct
Cultures (Palm Springs Campus)

Serology

RPR
HIV ½ Ag/Ab
Mononucleosis
ASO

Urinalysis with Micro
Facilities
Laboratory Services & Pathology | Larkin Health Please Visit or Call The Following Facilities.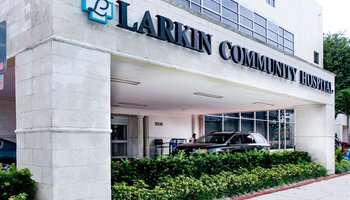 South Miami Campus
Larkin Hospital South Miami
7031 SW 62nd Ave. South Miami, 33143.
Tel: (305) 284-7500 | View
Hialeah Campus
Larkin Hospital Palm Springs
1475 W 49th Pl.. Hialeah, 33012.
Tel: 305-558-2500 | View
Physicians
Physicians Treating Laboratory Services & Pathology | Larkin Health.