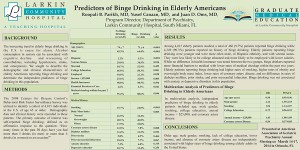 Congratulations to Juan D. Oms, MD, Roopali B. Parikh, MD, and Yusef Canaan, MD, whose poster entitled "Predictors of Binge Drinking in Elderly Americans," was accepted for presentation at the American Association of Geriatric Psychiatry 2014 annual meeting in Orland, FL. 
Dr. Oms is the Program Director of the Psychiatry Residency Program at Larkin Community Hospital, and Dr. Canaan is part of the residency training program.
To view the poster, click here. Their work was also recently highlighted on Medscape.com. 
The article can be viewed by clicking here: http://www.medscape.com/viewarticle/822539.  A free Medscape registration may be required.