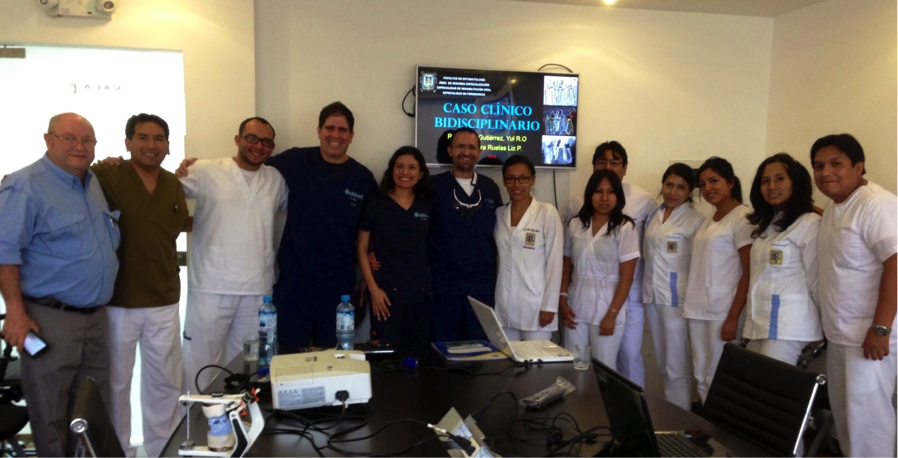 Drs. Ricardo Verne, Claudia Arias and Nadeem Haidar with PGY2 Periodontics Residents from Universidad Garcilaso de la Vega, Lima, Peru
3 of Larkin Hospital's Advanced Education in General Dentistry Residents conducted a weeklong surgical rotation at Universidad Inca Garcilaso de la Vega (UIGV) in Lima, Peru under the directorship of AEGD Director, Dr. Bertram I. Moldauer.
During this externship, the residents were able to treat patients with special needs such as Down Syndrome, Bifid Spine and patients with Maxillofacial deformities. Our residents rotated at the Hospital del Niño located in one of the most impoverished areas of Lima and were able to assist in surgical corrections for cleft lip and palate, as well as perform Operative Dentistry under general anesthesia.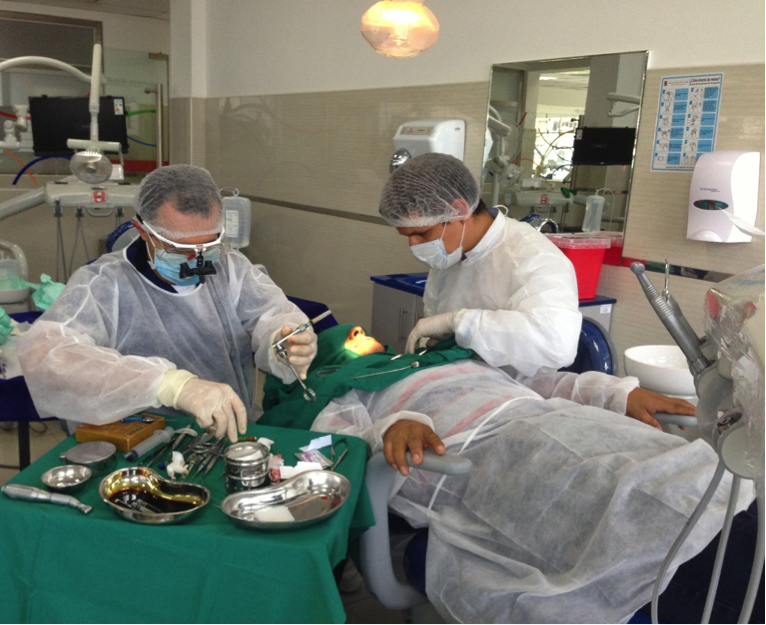 Dr. Nadeem Haidar performing a chin block graft to be used for bone augmentation for implant placement.
The residents also performed Advanced Implant Surgical procedures such as sinus lifts, block grafting, advanced guided tissue regeneration with a-PRF and i-PRF  and various periodontal surgical procedures.
"This is once in a lifetime opportunity" said Dr. Nadeem Haidar, one of the residents that participated in the externship."We were able to learn so much and also had the opportunity to help many people that otherwise don't have the means to be treated".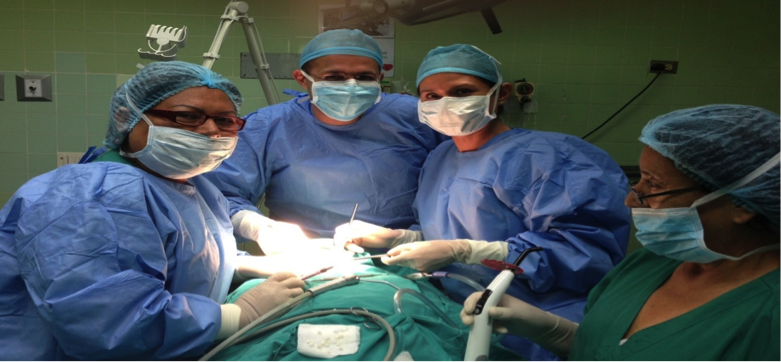 Drs. Nadeem Haidar and Claudia Arias at the Hospital's operating room conducting Operative Dentistry with staff from Hospital del Nino in Lima, Peru
This externship is possible thanks to a mutual affiliation agreement between Universidad Inca Garcilaso de la Vega (UIGV) and Larkin Community Hospital (LCH).
During the visit of the residents and Dr. Moldauer at UIGV another affiliation agreement was finalized between Universidad del Bosque in Bogota, Colombia and Larkin Hospital.