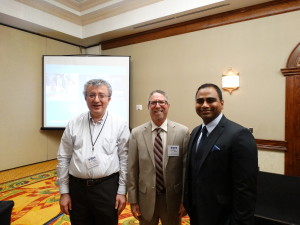 Dr. Taghi Khoshgoftaar, chairman of the IEEE Conference with Dr. Gary Levin and Dr. Sirish Mulpura
Larkin Community Hospital was a proud participant in the Institute of Electrical and Electronics Engineers (IEEE) conference in Boca Raton, FL this week.  Dr. Gary Levin, Chief Academic Officer of Larkin Community Hospital and the Dean of the College of Pharmacy at Larkin Health Sciences Institute was invited to give the keynote presentation.  Dr. Levin's talk focused on the connections being made between health care and computer science.
Dr. Sirish Mulpura, psychiatry resident at Larkin Community Hospital presented a paper coauthored with Dr. Christopher de la Houssaye and Dr. Steven DePrima on "MRI Reliability in Correlating Clinical Findings of Trigeminal Neuralgia."  This paper won the Best Paper Award in the Health Informatics Workshop.
To learn more about the Institute of Electrical and Electronics Engineers, visit www.ieee.org.
Congratulations Dr. Levin, Dr. de la Houssaye, Dr. DePrima, and Dr. Mulpura on your participation in this prestigious conference!