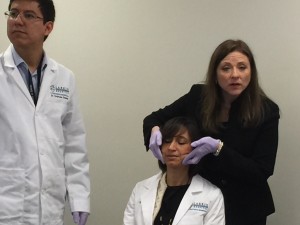 Dr. Palazzolo demonstrates the proper rutinary steps in the screening process for Oral Cancer in a Dental Practice Setting.
On January 23rd 2015, the Advanced Education in General Dentistry (AEGD) residents had the opportunity to receive hands on training on Oral Cancer Screening and a special lecture on the association of HPV and Oral Cancer by reknowned Oral and Maxillofacial Pathologist Dr. Mitzi J. Palazzolo.
Close to 43,250 Americans will be diagnosed with oral or pharyngeal cancer this year. It will cause over 8,000 deaths, killing roughly 1 person per hour, 24 hours per day. Of those 43,250 newly diagnosed individuals, only slightly more than half will be alive in 5 years (approximately 57%). This number has only slightly improved in recent decades.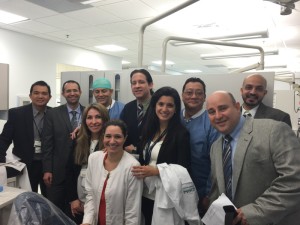 AEGD Residents at Orange Blossom Community Health Center with their Clinical Site Directors Drs. Juan C. Pinzon , Dr. Anthony Lee and AEGD program Director Dr. Bertram I. Moldauer
This is due to the increase of HPV16-caused cancers, which are more vulnerable to existing treatment modalities, conferring a slight survival advantage. This slight improvement in survival rates is due to a change in the etiology and not early detection or new types of treatments, which have been relatively unchanged from a decade ago.
The death rate for oral cancer is higher than other cancers widely publicized cancers such as cervical cancer, Hodgkin's lymphoma, laryngeal cancer, testicular cancer, thyroid cancer and malignant melanoma skin cancer.
If you expand the definition of oral and oropharyngeal cancers to include cancer of the larynx, the numbers of diagnosed cases grow to approximately 54,000 individuals, and 13,500 deaths per year in the U.S. alone. Worldwide the problem is much greater, with over 450,000 new cases being found each year.
To learn more, visit http://www.oralcancerfoundation.org/facts/#sthash.kgztjPUm.dpuf.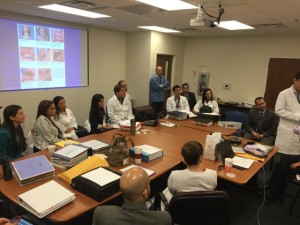 AEGD residents attend lecture on Association of Human PapillomaVirus (HPV) and Oral Cancer by Dr. Palazzolo
]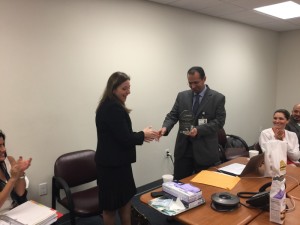 Dr. Palazzolo receives a special recognition award from Chief Resident Dr. Nadeem Haidar