On November 6th, 7th and 8th six of our Advanced Education in General Dentistry Residents at Larkin Community Hospital presented 2 posters at the annual meeting of the American Academy of Implant Dentistry (AAID) in Orlando, Florida. Our residents had the assistance of Dr. Maria Pena, who completed her fellowship in Implant Dentistry under the tutelage of Dr. Dennis Tarnow at Columbia University in New York and our director of Clinical Research Dr. Marcos Sanchez.
During the meeting our residents attended various lectures and had the opportunity to interact with world famous researchers and clinicians in the field of Dental Implantology and medical Biomaterials.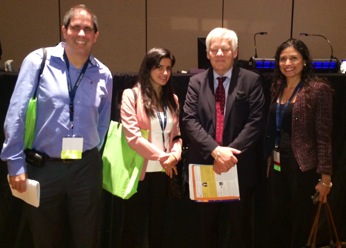 From left to right: AEGD residents Drs. Ricardo Verne, Hanieh Rahimi, Dr. Tomas Albrektsson ( Swedish physician and researcher from the University of Gothenburg, pioneer in the field of Dental Implantology), Dr. Claudia Arias ( AEGD resident).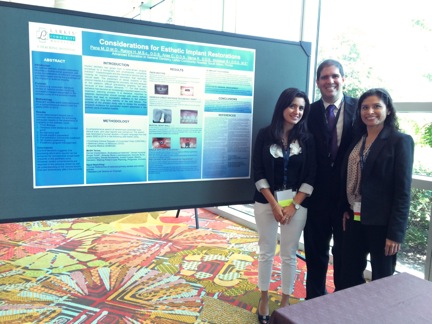 Drs. Hanieh Rahimi, Ricardo Verne and Claudia Arias present their poster titled: " Considerations for esthetic Implant Restorations".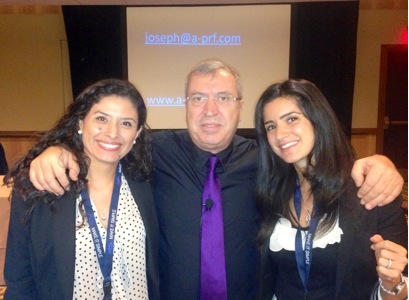 AEGD residents Dr. Claudia Arias (left), Dr. Hanieh Rahimi ( right) with famous inventor Dr. Joseph Choukroun from France. Dr. Choukroun invented the Platelet Rich Fibrin (PRF) kit, which is used currently as a method to enhance tissue regeneration in modern dental surgical procedures.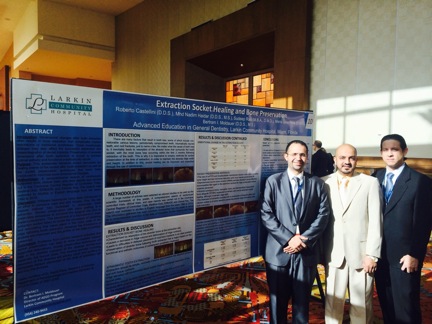 AEGD residents Drs. Nadim Haidar, Sudeep Rao, and Roberto Castellini presented a poster titled:" Extraction Socket Heasling and Bone Preservation."