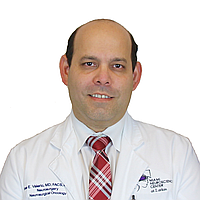 Jose Valerio-Pascua M.D.
Specialties: Neurosurgery.
Dr. Jose E. Valerio is an experienced neurosurgeon specializing in radiosurgery using the CyberKnife and Gamma Knife® procedure with extensive experience conducting clinical trials and advanced therapies. Dr. Valerio is the Vice President of the tumor section of the Federation of Latin American Neurosurgeons and an expert in minimally invasive spine and brain tumor surgery using endoscopic, navigation radiosurgery, LASER and OPTUNE™ therapy. He completed his fellowships in neurosurgical oncology and spine surgery at the Cleveland Clinic Foundation Brain Tumor Institute in Cleveland, Ohio.
Dr. Jose Valerio-Pascua is available at the following facilities:
---