Home »
Becoming a Practitioner
Pathways to become a Registered Dietician
CDR Requirements
For the most up to date information on pathways to become a practitioner, please visit the Commission on Dietetic Registration website.
CDR establishes requirements for eligibility to take the entry-level registration examinations for dietitians and dietetic technicians. Current requirements include academic preparation, supervised practice, and confirmation of academic and practice requirements by verification. These requirements are periodically reviewed and are subject to change.
Academic Requirements
Minimum of a Baccalaureate degree granted by a U.S. regionally accredited college/university or foreign equivalent.
Effective January 1, 2024, the Commission on Dietetic Registration (CDR) will require a minimum of a master's degree to be eligible to take the credentialing exam to become a registered dietitian nutritionist (RDN). In order to be approved for registration examination eligibility with a bachelor's degree, an individual must meet all eligibility requirements and be submitted into CDR's Registration Eligibility Processing System (REPS) before 12:00 midnight Central Time, December 31, 2023.For more information about this requirement visit CDR's website:https://www.cdrnet.org/graduatedegree. 
In addition, CDR requires that individuals complete coursework and supervised practice in program(s) accredited by the Accreditation Council for Education in Nutrition and Dietetics (ACEND). Graduates who successfully complete the ACEND-accredited [program type] program at [Institution name] are eligible to [apply to an ACEND-accredited supervised practice program/apply to take the CDR credentialing exam to become an RDN].
Current Minimum Academic Requirements
Completion of an Accreditation Council for Education in Nutrition and Dietetics (ACEND) accredited Didactic Program in Dietetics. All Didactic Programs in Dietetics are listed in the Directory of Dietetics Programs. December 31, 1999 is the last postmark date for submitting registration eligibility applications using Plan IV minimum academic requirements.
Supervised Practice Requirements
All dietetic education programs accredited by ACEND must be in the U.S. or its territories. Supervised practice requirements stipulate completion of one of the Accreditation Council for Education in Nutrition and Dietetics accredited pathways:
Accredited Dietetic Internship Program
Provides for the achievement of performance requirements for entry-level dietitians through a minimum of 1000 hours of supervised practice. The program follows completion of the Didactic Program in Dietetics and a Baccalaureate degree. Some programs may be completed part-time with supervised practice.
Accredited Coordinated Program
Academic program in a U.S. regionally accredited college or university culminating in a minimum of a Baccalaureate degree. The program provides for the achievement of knowledge and performance requirements for entry-level dietitians through integration of didactic instruction with a minimum of 1000 hours of supervised practice.
Individualized Supervised Practice Pathways (ISPPS)
In September 2011, the Academy announced the development of Individualized Supervised Practice Pathways or ISPPs ("ispeys") which are intended to add supervised practice capacity through ACEND-accredited dietetics programs, while providing student protections missing from the unaccredited models of the past. This approach provides a framework that can align the availability of supervised practice with demand from DPD students who hold verification statements, thereby laying the foundation for addressing supervised-practice shortages in the future.
The features of the ISPP initiative include:
Providing information for programs to implement ISPPs within existing dietetics-education program models.
Simplifying competency reporting processes used to document student outcomes.
Providing rotation-based activities and competency-assessment rubrics to reduce program director and preceptor workload while maintaining quality.
Facilitating collaboration among dietetics programs to develop and share best practices.
Developing processes for assessment of prior work experience and learning.
Monitoring and assuring program accountability to students in ISPPs.
Permitting DIs, CPs and DPDs to implement accredited ISPPs to prepare graduates with verification statements to sit for CDR's registration exam.
Allowing students to receive payment while in supervised practice.
Facilitating the potential for eligible programs to provide federal student aid.
Allowing two years to complete experiences with the option for an additional year in extenuating circumstances.
Allowing programs to charge differential tuition and fees over the duration of a pathway.
Giving permission for programs to develop criteria for accepting individuals holding doctoral degrees into ISPPs without a didactic verification statement.
Pathway I
Didactic Programs in Dietetics (DPD) Program Graduates - Completion of DPD program requirements documented with a DPD Verification Statement. Baccalaureate Degree granted by a US regionally accredited college/university.
Pathway II
Doctoral Program graduates - DPD Verification Statement is not required. Doctoral Degree granted by a US regionally accredited college/university.
Registration Eligibility Reciprocity
Registration eligibility reciprocity is extended to individuals who completed all certification requirements (didactic, experiential and examination) in the country with whom CDR has an agreement. CDR currently has reciprocity agreements with the following foreign regulatory boards.
Dietitians of Canada (DC).
Dutch Association of Dietitians/Ministry of Welfare, Public Health and Culture (NVD).
Philippine Professional Regulation Commission (PRC).
Irish Nutrition and Dietetic Institute (INDI).
International Dietetics Programs
With the implementation of the Accreditation Council for Education in Nutrition and Dietetics (ACEND) substantially equivalent process in 2003, CDR determined that it will no longer enter into registration eligibility reciprocity agreements. Only the four existing agreements, listed above, will remain in effect.
Graduates of international dietetics programs, determined to be "substantially equivalent" by ACEND, are eligible to take the CDR entry-level registration examination for dietitians provided they apply for registration eligibility to the Commission on or before July 1, 2019.  Registration eligibility applications from graduates of "substantially equivalent" programs will not be considered after July 1, 2019.
ACEND established a new International Accreditation Process for international dietetics programs in 2012.  This new international program accreditation process includes a required supervised practice experience in the United States.  CDR has determined that it will allow graduates of the ACEND accredited international dietitian education programs to become eligible for the CDR registration examination for dietitians.
State Licensure
Please keep in mind that many states require licensure to practice dietetics and nutrition.
For Florida licensure please visit the Florida Health Medical Quality Assurance website.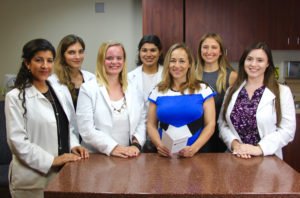 For the most up to date information on pathways to become a practitioner, please visit the Commission on Dietetics Registration website